"Social Innovation: The Transformational Power of Lived Experiences and the Diversity of Thought"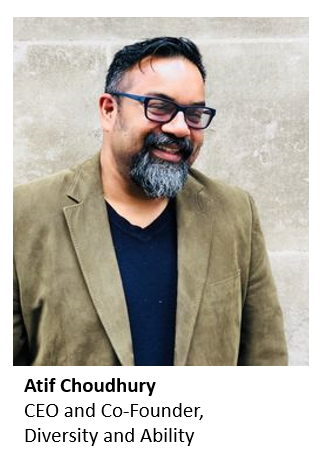 Inclusive settings don't just happen. They're the result of anticipatory strategic approaches that foster well-being, encourage psychological safety and ultimately cultivate a culture that celebrates diversity of thought and experience. In an interview with AHRC Nassau CEO and DEI Conference Chair Stanfort Perry, international social entrepreneur Atif Choudhury will present strategies for leaders and allies to create authentic outcomes. Through case studies and lived experience, Choudhury will explain how to create a foundation of anticipatory welcomes and proactive acknowledgment of intersectionality, creating an environment that upholds accountability and enables real social action.

Key Learning Points
- Evaluate where your organization is on the journey to an inclusive culture.
- Respond to the difference between diversity and inclusion.
- Facilitate an anticipatory welcome and proactive acknowledgment of intersectionality.
                                                         
Presented By
Winner of the 2018 Global Equality and Diversity Noon award, Atif Choudhury is an award-winning social entrepreneur, with a background in economic justice and disability inclusion projects. Focusing on the inclusion of marginalized communities, Atif has worked with a number of high-profile grassroots social development projects across the UK, the Middle East and Asia. He is the co-founder and CEO of Diversity and Ability (D&A) and Zaytoun CiC (the world's first Fairtrade Palestinian olive oil cooperative), as well as serving as a trustee for the anti-poverty charity War on Want. He was a shortlisted finalist as "Entrepreneur of Excellence' for the 2019 National Diversity awards and remains a trustee of the pan-disability charity Disability Rights UK.
The change Atif would like to see in the world is one that raises the strength of inclusion through intersectional lenses. He believes in pushing for a future of inclusive change and broader equality. He is adamant that poverty, class, race, gender and culture must be part of the systems that work to welcome the diversity of thought and the hidden assets in everyone.
Diversity and Ability (D&A), is a disabled-led social enterprise, which has supported over 20,000 marginalized and neurodiverse individuals using (assistive) technology, mentoring and tailored strategies. Through one-to-one sessions, company-wide workshops and consultancy, D&A works with organizations to implement inclusive practices that enhance the diversity of their workforce, inspiring culture shifts that boost productivity and retention.
Recognizing the importance of celebrating difference, D&A works with marginalized long-term unemployed and homeless communities, as well as government agencies, charities, universities and think tanks. Drawing on lived experiences, D&A transforms outdated understandings of disability, promoting accessibility and equality wherever they go.
In recognition of their ongoing work in providing free Neurodiversity support for those impacted by learning isolation and socio-economic exclusion, D&A were shortlisted finalists of the 2019 Uk Inclusive Companies awards. For their work in responding to Covid-19, Diversity and ability were awarded the greatest impact from the RIDI Awards. They are also awarded and recognized as 2020's UK disability consultancy of the year.